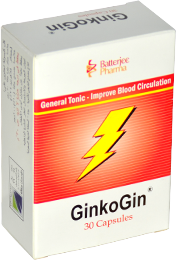 Ginkogin
General Tonic / Improves Blood Circulation
Each capsule contains:
Ginkgo biloba dry extract (ginkgo flavonglycosides 24%).....50 mg
Ginseng dry extract (10%).....100 mg
PROPERTIES:
Ginkogin is a herbal product. Ginkogin has a vasodilating effect through activation of NO/cGMP pathway that improves blood circulation through the whole body.

INDICATIONS:
Improve blood circulation.
General tonic.
Improve physical, mental and sexual functions.
Boost sexual performance in male and female with aphrodisiac effect.
Eliminate stress and anxiety.