General Business Activities
The company has its own range of generic products, and is actively developing further products to widen its range. In addition to that, the company aims to develop stronger relationship with multinational companies to under-license their branded products. Moreover, the company production site is always under continious development to fulfill and exceed the expectations of multinationals and regional companies needing our service of full manufacturing or packaging for Saudi and G.C.C. market.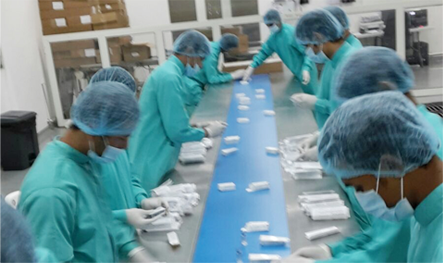 Our Standards
The Quality Policy of Batterjee Pharma is designed to produce good quality medicines and provide top notch toll manufacturing services.

At Batterjee Pharma, it is a basic premise that Quality is not merely conformance to specifications; it is, in fact, building quality into our product and services at all stages in order to achieve the desired results within the required timeframe.

Batterjee Pharma quality system is based on the belief that there is always room for improvement and every member contributes and committed towards achieving the highest standards of quality.

We are in the business of manufacturing & marketing pharmaceuticals and supplements. It is our corporate endeavor to meet the needs and requirements of our customers and our multinational clients using our services by offering consistent quality products and services at all times.

We are committed to improve constantly alignment to be corrected the quality of our products and services through continuous up gradation of technology, and continuous training and development of our people to effectively adapt to newer technologies and higher standards of service.

We want our customers throughout the world to derive the full satisfaction of using our products and services and to this end, we are committed to follow and comply with top Quality management systems.
Company Departments
QUALITY ASSURANCE DEPARTMENT


QUALITY CONTROL DEPARTMENT


PLANNING DEPARTMENT


PRODUCTION DEPARTMENT


RESEARCH AND DEVELOPMENT DEPARTMENT


PROCUREMENT DEPARTMENT


REGULATORY AFFAIRS DEPARTMENT


PHARMACOVIGILANCE DEPARTMENT


ENGINEERING DEPARTMENT


WAREHOUSE DEPARTMENT


BUSINESS EXCELLENCE DEPARTMENT


SALES, MARKETING & EXPORT DEPARTMENT


CONTRACT MANUFACTURING DEPARTMENT


FINANCE AND ADMINISTRATION DEPARTMENT


HUMAN RESOURCES DEPARTMENT


FINANCE DEPARTMENT


INFORMATION TECHNOLOGY IT DEPARTMENT
Registration and Certification
11.09.2006
Syrup, Capsule &Tablet
MOH
Registration

09.07.1432
SFDA
Factory Licence
16.01.2008 External Preparation
MOH
Registration

18.03.2012
SFDA
CGMP Certificate
08.03.2011
GCC & SFDA
Registration