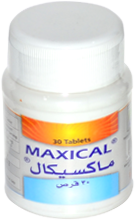 Maxical
Calcium Supplement
Each tablet contains:
Calcium.....600 mg
Vitamin D3....200 IU
PROPERTIES:
Maxical is a well known effective and safe formula when calcium supplement is needed.

INDICATIONS:
Maxical supports healthy bone and teeth.
Maxical replaces bone loss and reduces fracture risk.
Maxical monitors functional integrity of nervous system and cardiovascular system.
Maxical is the optimal choice for any calcium deficiency cases.