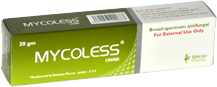 Mycoless
Topical Broad Spectrum Anti-Fungal
Each gram of cream contains:
Miconazole nitrate.....20 mg
CLINICAL PHARMACOLOGY:
Mycoless Cream is a broad-spectrum antifungal with activity against the common dermatophyte, yeasts and other fungi, and it has a bactericidal activity against certain gram-positive bacilli and cocci.

Mycoless Cream inhibits the biosynthesis of ergosterol of the cytoplasmic membrane resulting in fungal cell necrosis.

Miconazole nitrate does not produce detectable blood levels after topical application.