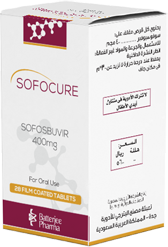 Sofocure
Anti Viral / Hepatitis C Virus
Each tablet contains:
Sofosbuvir..... 400 mg
PROPERTIES:
Sofosbuvir acts against HCV and is categorized as a direct-acting antiviral agent (DAA).
Sofosbuvir is nucleotide analog inhibitor, which specifically inhibits HCV NS5B (non-structural protein 5B) RNA-dependent RNA polymerase.


INDICATIONS:
Treatment of adult patients with genotype 1, 2, 3 or 4 chronic hepatitis C virus (HCV) infection without cirrhosis or with compensated cirrhosis as a component of a combination antiviral treatment regimen.