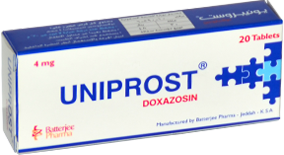 Uniprost
Treatment of Benign Prostatic Hyperplasia (BPH) Each cross scored tablet contains:
Doxazosin Mesylate.....4 mg
PROPERTIES: UNIPROST is an alpha 1- adrenoceptor blocker. It produces peripheral dilatation of both arterioles and veins, and reduction of peripheral resistance.

In benign prostatic hyperplasia (BPH), UNIPROST may relieve the symptoms of urinary obstruction by reducing smooth muscle tone in the prostate and bladder neck. In patients with heart failure, UNIPROST reduces both preload and afterload and produces an improvement in cardiac output.

UNIPROST is used in the management of hypertensions, and to relieve symptoms of urinary obstruction in BPH. It has also been used in heart failure.